USA 2017. Pirates of the Caribbean: Dead Men Tell No Tales. Regi: Jesper Rønning, Espen Sandberg. Skådespelare: Johnny Depp, Javier Bardem, Geoffrey Rush, Kaya Scodelario, Brenton Thwaites, Golshifteh Farahani. Åldersgräns: 11 år. Längd: 2.09.

All CGI:d and Nowhere to Go eller Fast and Furious Pirates hade varit lämpligare undertitelalternativ till den här, ryktesvis, sista sucken för Disneys franchise om sagopirater. Som regissörer står norska radarparet Jesper Rønning och Espen Sandberg (Kon-Tiki), men att döma av filmen är det producenten och pyromanen Jerry Bruckheimer som hållit i fjärrkontrollen bakom kulisserna.
Under handlingens gång kan man riktigt se framför sig hur han har strukit många manussidor med dialog, fördjupningar av personporträtt, bakgrundsbeskrivningar och inre logik. Med tjock rödpenna har han skrivit: "spökskepp med gengångare dyker upp för att slakta" och "jätte-jätte-explosion". Originalundertiteln Dead Men Tell No Tales är därför också passande med tanke på den slocknade hjärnaktiviteten under produktionen.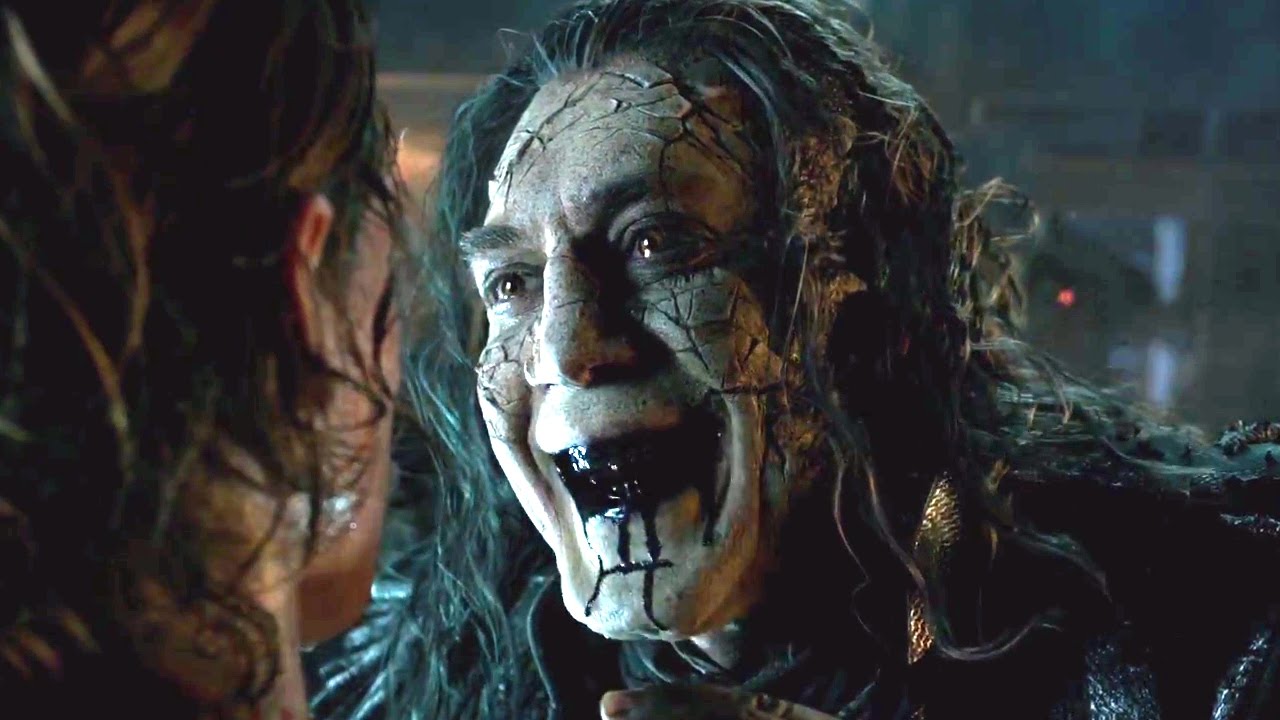 Det klassiska matinéäventyret som till mångas glada överraskning präglade DEN FÖRSTA och FJÄRDE filmen i serien har nu skalats bort helt. Kvar finns bara en serie renodlade mekaniska sinnesretningar i hastiga kamerarörelser över datoranimerad massförstörelse till bombastiska musik- och ljudkrevader i surroundanläggningen. Tillsammans med en story som plankar det mesta ur originalet är det ett tecken på en fatalt framskriden materialtrötthet.
Det syns inte minst på att man i animerade vaxdockorna Brenton Thwaites & Kaya Scodelario lyckats hitta ett kärlekspar som, om möjligt, är ännu tråkigare än tidigare kombon Orlando Bloom & Keira Knightley. Men som om det inte var nog återförenar man dessutom det sistnämnda paret i filmens kilometertjockt sockrade final. En sadistisk sista omvridning av svärdet i såret efter en drygt två timmar lång dödsstöt mot allt vad som rimligen ligger i begreppet god underhållning.
© Michael Tapper, 2017. Sydsvenska Dagbladet och Helsingborgs Dagblad 2017-05-24.