Ute nu!
Min bok om Clint Eastwood publiceras i nyutgåva som både e-bok och ljudbok (se omslaget ovan) med ett nytt kapitel om decenniet som gått sedan första utgåvan 2011.
Ingmar Bergman's Face to Face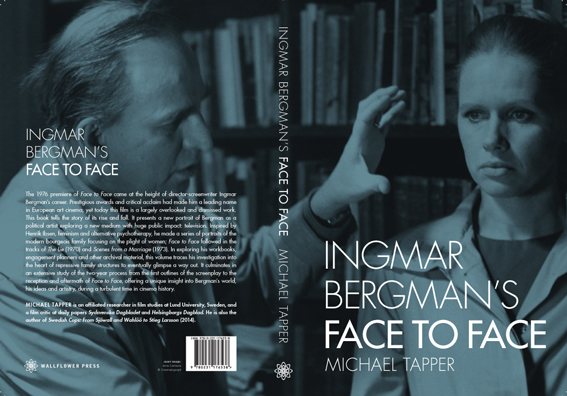 The 1976 premiere of Face to Face came at the height of director-screenwriter Ingmar Bergman's career. Prestigious awards and critical acclaim had made him into a leading name in European art cinema. Yet today Face to Face is a largely overlooked and dismissed work. This book tells the story of its rise and fall.
It presents a new portrait of Bergman as a political artist exploring a new medium with huge public impact: TV. Inspired by Henrik Ibsen, feminism and alternative psychotherapy, he made a series of portraits of the modern bourgeois family focusing on the plight of women. Face to Face followed in the tracks of The Lie (1970) and Scenes from a Marriage (1973).
By his workbooks, engagement planners and other archival material we can trace his investigation into the heart of the repressive family structures to eventually glimpse a way out. The book culminates in an extensive study of the two-year process from the first outlines of the screenplay to the reception and aftermath of Face to Face. Hereby, the book offers a unique insight into Bergman's world, his ideas and artistry, during a turbulent time in cinema history.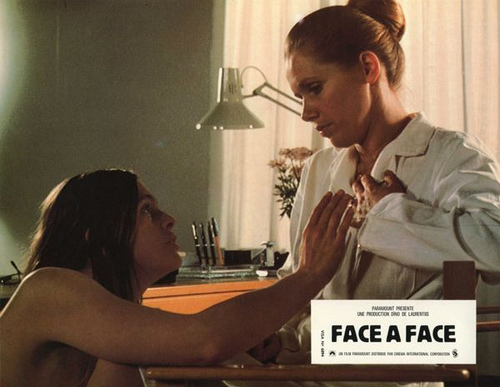 Praise for Ingmar Bergman's Face to Face:
"[…] Tapper's deep dive off the second tier makes for a fruitful exploration of Bergman's early 1970s period, during which the filmmaker found new possibilities and wider audiences with television, and with the abyss-plumbing, psychologically naked Face to Face in particular. By zeroing in on one of the director's neglected films, Tapper finds new angles on a figure too often embalmed as a chilly, Nordic art-house deity […] Tapper thoroughly maps the genesis and action of Face to Face with excerpts from Bergman's notebook and planner, and judicious splashes of color (producer Dino De Laurentiis is "that fucking Italian"). Weighing reasons for Face to Face's lukewarm reception, he provides mundane ones (Bergman's tax evasion scandal, primal therapy's loss of favor) before giving his own clear-eyed account of the film's demerits, including a failure to clinch audience engagement with Jenny's plight. Tapper's lack of an agenda to crown an undersung masterpiece is a refreshing alternative to the reverent canonization that often accompanies discourse on the artist and obscures the true nature of his legion achievements." – Justin Stewart, Film Comment, January/February 2018.
"Generally, this book is concerned with providing context, rather than offering revisionist arguments, or pushing the case for a critical rehabilitation of Face to Face. Detailing the ways in which the late nineteent-century plays of Ibsen and Strindberg inspired Bergman's mid-career work, Tapper also emphasizes the extent to which the filmmaker was steeped in cultural concerns, and was heavily influenced by both the sexual revolution and the 'Anti-Psychiatry' movement of the 1960s. /…/ Published on the eve of Bergman's centenary, this book situates a largely overlooked Bergman film back in the time and place from which it emerged, inviting us to understand it in its own terms." – Anna Coatman, Times Literary Supplement, 18 May 2018.
See also Antti Alanen's  review of my book ON HIS BLOG.
Published October 3, 2017 (pb ed. October 31), by WALLFLOWER PRESS, an imprint of COLUMBIA UNIVERSITY PRESS.
ISBN-10 (hc) 023117652X
ISBN-13 (hc) 978-0231176521
ISBN-10 (pb) 0231176538
ISBN-13 (pb) 978-0231176538
Hardcover, paperback, e-book (Kindle) 216 pages
Product Dimensions (hc) 2.5 x 16.5 x 24.1 cm
Product Dimensions (pb) 1.9 x 15.9 x 23.5 cm
BUY:
AMAZON UK (hardcover)
AMAZON UK (paperback)
AMAZON US (hardcover)
AMAZON US (paperback)
E-BOOK (Amazon Kindle edition)
Swedish Cops: From Sjöwall & Wahlöö to Stieg Larsson
Michael Tapper considers Swedish culture and ideas from the period 1965 to 2012 as expressed in detective fiction and film in the tradition of Maj Sjöwall and Per Wahlöö. Believing the Swedish police narrative tradition to be part and parcel of the European history of ideas and culture, Tapper argues tha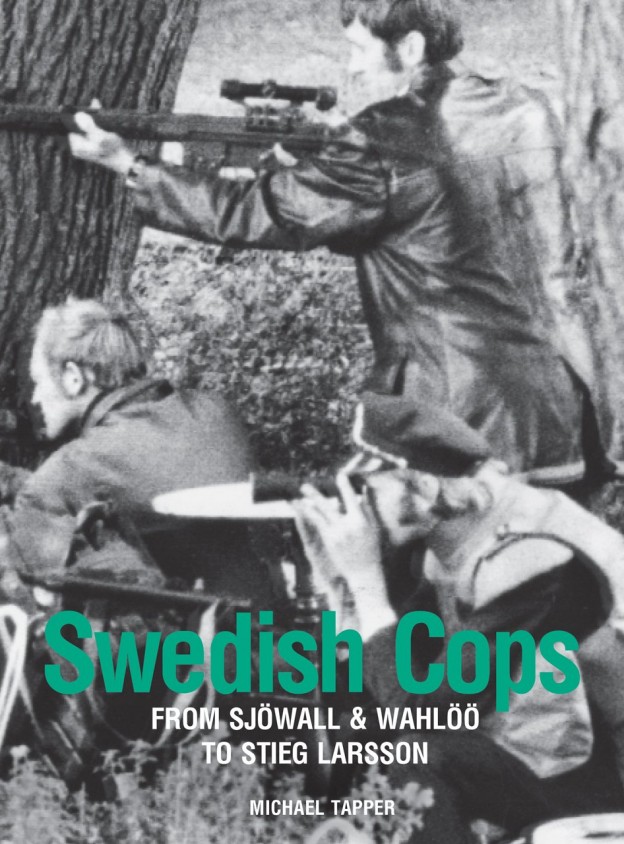 t, from being feared and despised, the police emerged as heroes and part of the modern social project of the welfare state after World War II.
Establishing themselves artistically and commercially in the forefront of the genre, Sjöwall and Wahlöö constructed a model for using the police novel as an instrument for ideological criticism of the social democratic government and its welfare state project. With varying political affiliations, their model has been adapted by authors such as Leif G. W. Persson, Jan Guillou, Henning Mankell, Håkan Nesser, Anders Roslund and Börge Hellström, and Stieg Larsson, and in film series such as Beck and Wallander. The first book of its kind about Swedish crime fiction, Swedish Cops: From Sjöwall and Wahlöö to Stieg Larsson is just as thrilling as the novels and films it analyses.
ISBN 9781783201884
Paperback 335 pages
230 x 170 mm
Published June 2014
Imprint: INTELLECT .
Published in the U.S. by UNIVERSITY OF CHICAGO PRESS
Buy:
 INTELLECT LTD.
UNIVERSITY OF CHICAGO PRESS
AMAZON (UK)
 AMAZON (USA)
E-BOOK (Amazon Kindle edition)
Första svenska biografin om kulturfenomenet Clint Eastwood!
Mannen. Myten. Ikonen. Varumärket. På film, i politiken. Älskad och hatad som få. Kallad såväl fascist som politiskt korrekt liberal. Clint Eastwood lämnar ingen oberörd och därför är det hög tid för en bok om honom. I den första svenska biografin skärskådas en av Hollywoods längsta och mest framgångsrika karriärer både framför och bakom kameran. Oavsett om man ser honom som stor konstnär eller som dussinprodukt, stjärna eller uppblåst B-skådis, är Clint Eastwood ett globalt kulturfenomen att ta på allvar.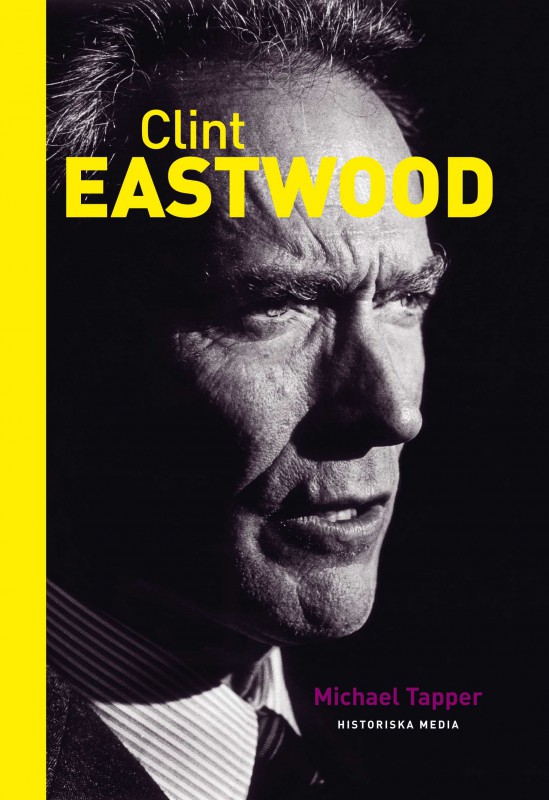 Clint Eastwood är en arketypisk amerikansk historia. Hans släkt har anor tillbaka till 1600-talet i USA, och under följande sekel tillhörde de pionjärerna som sökte sig västerut. Hans liv är en klassisk framgångssaga från födseln 1930 i ett enkelt hem i Oakland, Kalifornien, till att bli en av Hollywoods mest säljande stjärnor och viktigaste regissörer.
I en mediedominerad tid blev han ett säljande varumärke, och hans medvetna marknadsföring av sig själv suddade ut gränsen mellan privatpersonen och hans roller. Likt föregångaren John Wayne och efterföljaren Arnold Schwarzenegger gjorde han sig till ikon, först för 1980-talets konservativa vindar, senare för den liberala motreaktionen. Inte undra på att såväl hans skådespelarinsatser som regiarbeten väckt ett så starkt intresse.
Ingen som vill förstå amerikansk samtidshistoria, kultur och politik kan undgå Clint Eastwood. Den här första svenska biografin går bakom myten och mediebilden för att förstå honom som kulturellt och politiskt fenomen.
Titel Clint Eastwood
Författare Michael Tapper
Ämne Biografier, Utländska
ISBN 9789186297763
Sidantal 144
Utgiven 2011
Omslag Elsa Wohlfahrt Larsson
Förlag: HISTORISKA MEDIA
OBS! Den tryckta upplagan är slutsåld, men e-boken är fortfarande till salu.
Recensioner:
EXPRESSEN
NERIKES ALLEHANDA
ÖSTRAN
KULTURBLOGGEN
Intervjuer:
VETENSKAPSRADION FORUM i SR P1
EN BOK, EN FÖRFATTARE i KUNSKAPSKANALEN
SNUTEN I SKYMNINGSLANDET (doktorsavhandling, 2011)
Sn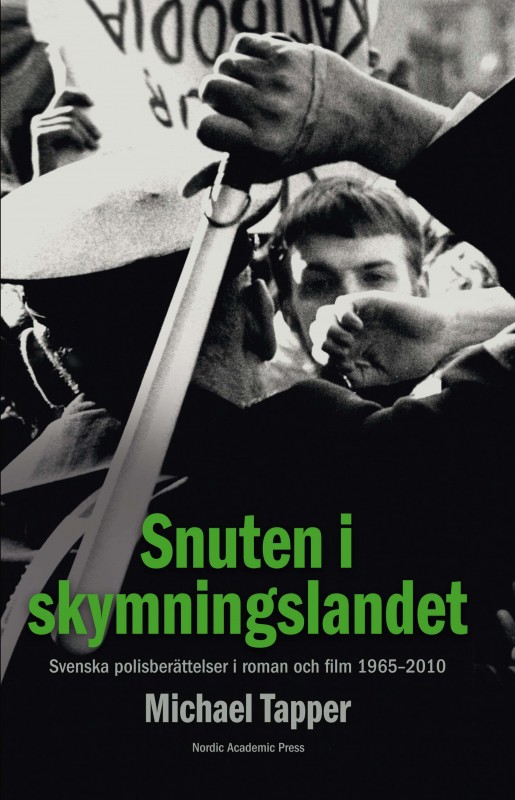 uten i skymningslandet är en svensk idé- och kulturhistoria 1965-2010 såsom den kommit till uttryck i de tongivande polisberättelserna i roman och film. Michael Tapper tar avstamp i en historik över den moderna kriminalpolitiken, polisorganisationen och kriminalgenren för att de stilbildande och mest säljande romanerna och filmerna under perioden. Författaren belyser hur genren använts för att angripa folkhemmet och beskriva dess sönderfall. Sjöwall-Wahlöö står inte oväntat i centrum, men även författare som Leif GWPersson, Jan Guillou, Henning Mankell och Stieg Larsson samt filmatiseringarna av deras romaner analyseras. Ett särskilt kapitel ägnas åt de fristående filmserierna Beck, Johan Falk och Wallander.
I polisberättelserna utspelar sig ideologiska slag om verkligheten där fiktionen inte bara är en spegel av samtiden utan också påverkar vår uppfattning av den och i slutänden även verkligheten självt genom opinionsbildning och politiska beslut.
Det är hög tid att sätta sökarljuset på den svenska polisberättelsen i roman och film, och på de politiska sammanhang, händelser och debatter som format och formats av den. Snuten i skymningslandet lägger en avgörande pusselbit till förståelsen av den svenska samtidshistorien.
Titel: Snuten i skymningslandet: Svenska polisberättelser i roman och film 1965-2010
Författare: Michael Tapper
Boktyp: Inbunden
ISBN 9789185509621
Art. nr. 4145
Sidantal: 864
Storlek: 150*225
Utgiven: 2011
Illustrerad Svartvitt
Förlag: NORDIC ACADEMIC PRESS
Recensioner:
SYDSVENSKAN
EXPRESSEN
DAGENS NYHETER
RECENSION I DALARNAS TIDNINGAR
KRÖNIKA I DALARNAS TIDNINGAR
SAMLAREN
DJUNGELTRUMMAN
SWEDISH BOOK REVIEW 2012:2 (Eng)
DAST
RESPONS
MIN RESPONS PÅ RECENSIONEN I RESPONS
Intervjuer:
SYDSVENSKAN
FORSKNING & FRAMSTEG
SVENSK POLIS
EN BOK, EN FÖRFATTARE i KUNSKAPSKANALEN
SKÅNSKA DAGBLADET
SMÅLANDSPOSTEN, intervjun publicerades även i Norrköpings Tidningar.
VETENSKAPSRADION FORUM i SR P1
FOKUS
SYDSVENSKAN OM DECKARAKADEMINS PRIS
Mina reflektioner över arbetet med boken i:
GAUDEAMUS, se texten i mitt textarkiv: MED SNUTEN UNDER FÖRSTORINGSGLASET