USA 2007. The Invasion. Regi: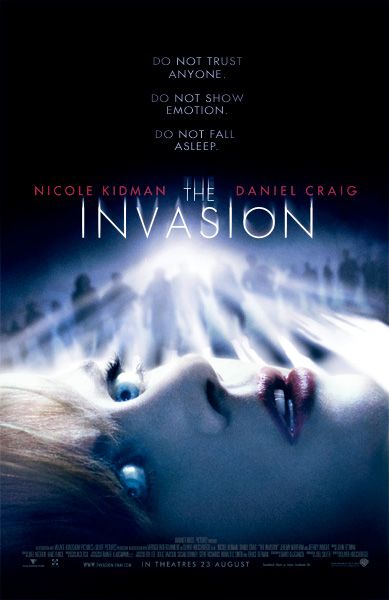 Oliver Hirschbiegel. Skådespelare: Nicole Kidman, Daniel Craig, Jeremy Northam, Jackson Bond. Längd: 1.39.
Den här tredje nyinspelningen av Don Siegels B-klassiker Invasion of the Body Snatchers (Världsrymden anfaller, 1956) är den kanske hittills svagaste. Siegel använde Jack Finneys novell The Body Snatchers som metafor för dåtidens paranoia om både kommunism och konformism, och i Philip Kaufmans nyinspelning från 1978 har den senare definitivt sugit allt liv ur mänskligheten.
Men liksom Abel Ferraras Body Snatchers (1993), som handlade om ett tonårsuppror på en amerikansk militärbas, har tyske Hirschbiegel (Undergången) i sin amerikanska debut svårt att fånga något samtida motiv med motsvarande dramatisk kraft och brännande giltighet. Vagt anspelar han på Konrad Lorenz biologistiska teorier om aggression som fundamentalt för vår existens, vilket märkligt nog gör utomjordingarnas själsdödande maktövertagande till ett slags fredsutopi.
Budskapet är att det som gör oss mänskliga har sitt pris i ständiga krig och konflikter. Människans förmåga till medkänsla, solidaritet och framförallt till att göra förnuftsmässiga val bortom eventuell biologisk betingning har ingen plats i den här håglösa civilisationspessimismen.
Håglöshet utmärker också iscensättningen, som är anonym i samtliga rollgestaltningar trots den gedigna skådespelarlistan och poänglöst klipper till bakåt- och framåtblickar som varken förhöjer dramat eller de fördjupar de ytliga rollteckningarna. En del av skulden ligger säkert i att producerande Warner Bros. kallade in Matrix-bröderna Wachowski och deras regissörskollega James McTeigue (V FOR VENDETTA) för att klippa om Hirschbiegels film och lägga till nya actionscener.
Ändå tror jag knappast att en framtida director's cut på DVD kommer att vara mycket bättre. Filmen är nämligen genomgående så temperamentslös och konstnärligt strömlinjeformad att den ser ut att vara gjord av zombier från yttre rymden.
© Michael Tapper, 2007. Sydsvenska Dagbladet 2007-11-16.