USA 1970
Directed by Leonard Kastle Screenplay Leonard Kastle Cinematography Oliver Wood Edited by Stan Warnow, Richard Brophy Music Gustav Mahler With Shirley Stoler Martha Beck Tony Lo Bianco Ray Fernandez Dortha Duckworth Martha's mother Doris Roberts Bunny Marilyn Chris Myrtle Young Mary Jane Higbee Janet Fay Kip McArdle Delphine Downing Produced by Warren Steibel Production Company Roxanne Productions Runtime 107 minutes.
DVD
USA 2003
Produced and Distributed by The Criterion Collection (region 1) Aspect ratio Widescreen 1.85:1 Sound Mix Dolby Digital Mono 1.0 Extras Video interview with Leonard Kastle. Scott Christianson's illustrated essay Condemned: Inside the Sing Sing Death House, on the background story of the "Lonely Hearts"-killers Martha Beck and Ray Fernandez. Cast and crew biographies by Bruce Eder. Trailer. Printed essay on the film by Gary Giddins.
As famous for its many celebrity followers – François Truffaut, Michelangelo Antonioni, Marguerite Duras et.al. – as for its detractors (Pauline Kael and her followers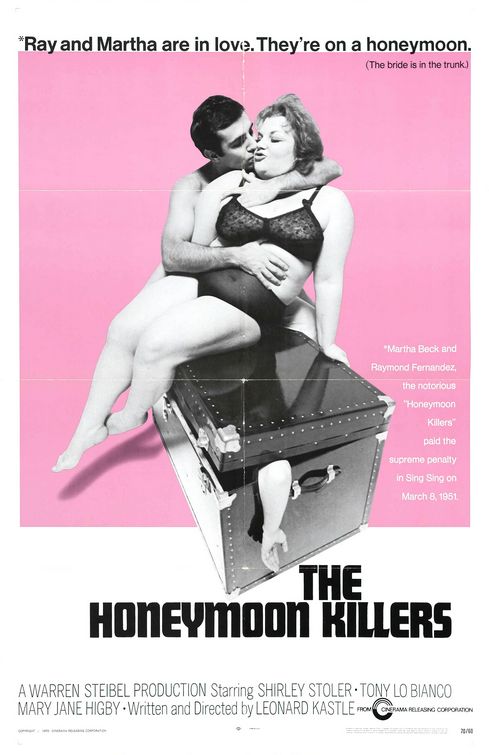 ), this gritty, low-budget ($200,000) passion and murder story still comes across with undiminished raw power after more than 30 years. The intense atmosphere of sexual obsession and violence is not caused by graphic representations – although there is a painfully long scene where the murderous couple discuss which one of them should finish off the screaming victim with a hammer – but by the pseudo-documentary cinematography and the remarkable acting by veterans from New York theater and radio and unknown to the majority of the cinema-goers at the time.
The result is a film that visually looks like an Andy Warhol or a Direct Cinema production but in story and acting is purely film noir. Still, the drab, suburban setting and the inspired casting of actors far removed from the crumbling Hollywood's style and polish gives it an edge like few other crime films: Shirley Stoler's Martha is overweight, love-starved, infantile, whining, aggressive and possessive. Tony Lo Bianco's Ray is a balding, unintelligent and all-too-obvious lonely-hearts con man. Together they embark on a love story and a murder scheme that is as strangely moving as it is repulsive, and the lingering fascination with this film – a cult scene favorite for many years – is mostly due to these actors remarkable performances.
Sadly, both of them have spent the rest their careers mostly in undistinguished bit parts. Stoler (who died in 1999) had only one more notable role – that of the sadistic concentration camp guard in Lina Wertmüller's black comedy Seven Beauties (Pasqualino settebelezze, 1976). Tony Lo Bianco got a great part in the hit film The French Connection (1971), but was then stuck with a gangster and Mafiosi image for the rest of the century. However, he also made one more unforgettable role for the cult scene – as the police investigator in Larry Cohen's God Told Me To (1976).
Much has been said already about its peculiar origins as a project set out to counter Arthur Penn's Bonnie and Clyde (1967), which TV producer Steibel and opera-composer Kastle felt was phony, glamorized and to obviously directed for the youth rebel market. Inspired by the infamous "Lonely Hearts Murders" of 1948-49, Kastle wrote a screenplay to be directed by then-unknown Martin Scorsese. After two days Scorsese was already so far behind schedule that Steibel fired him and put Kastle in the directors chair to keep the production within the miniscule budget. And it is perhaps the tight production schedule on the completion over a few weeks that give the film its intensity.
But for all its unsentimental tale of sexual obsession and gruesome murders, it is still no match for the real story of Martha and Ray, revealed in Scott Christianson's interesting video essay. Here we learn of Martha's history as a child sexually abused by other family members and given the blame for becoming pregnant in her teens. Contrary to the story in the film, she actually had children before meeting Ray, and she left them to follow him (pretending to be his sister) on his restless trips around New York and bordering states to sweep lonely women of their feet, pretending to plan for marriage while stealing their savings. Ray staying in touch with his wife and children, visiting them and sending them money on and off all through his criminal career, including the affair with the insanely jealous Martha.
Despite the innumerable and instantly forgettable big-budget remakes of low-budget classics made in recent years – the Gus van Sant-postmodernized Psycho (1998) and the Michael Bay-conceptualized The Texas Chainsaw Massacre (2003) are perhaps the most dreadful that comes to mind – it is still tempting to think what could be done with the full story of Martha and Ray. Until then we can enjoy this DVD edition, released long after both the VHS and laserdisc editions became out-of-print and, hence, much sought-after collector's items.
Criterion has been up their usual high standards in cleaning up the images from scratches and dirt, but the soundtrack is still so bad that at least non-native English speakers like myself have to switch on the subtitles to make out the dialogue in many scenes. The previous editions have all had the same problem, and so it probably can be blamed on a very poor original sound recording. With all the digital technology available, it is, however, sad that it cannot be improved more. But as I have indicated above, there are many reasons for this underground classic to be reassessed and made known to a wider audience. Few films have captured the seediness and cruelty of crime but also the often irrational motifs of the criminals as convincing as The Honeymoon Killers.
© Michael Tapper, 2004. Film International, vol. 2, no. 1, p. 66.