USA 2015. Directed by Tom McCarthy Screenplay Josh Singer, Tom McCarthy Cinematography Masanobu Takayanagi Editor Tom McArdie Sound Designer Paul Hsu Production Designer Stephen Carter Music Howard Shore. With Mark Ruffalo Michael 'Mike' Rezendes Michael Keaton Walter 'Robbie' Robinson Rachel McAdams Sacha Pfeiffer Liev Schreiber Martin Baron John Slattery Ben Bradlee Stanley Tucci Mitchell Garabedian Neal Huff Phil Saviano Brian d'Arcy James Matt Carroll. Producers Michael Sugar, Steve Golin, Nicole Rocklin, Blye Pagon Faust Production Companies Anonymous Content and Rocklin/Faust assisted by Participant Media and First Look Media. Running Time 2.09.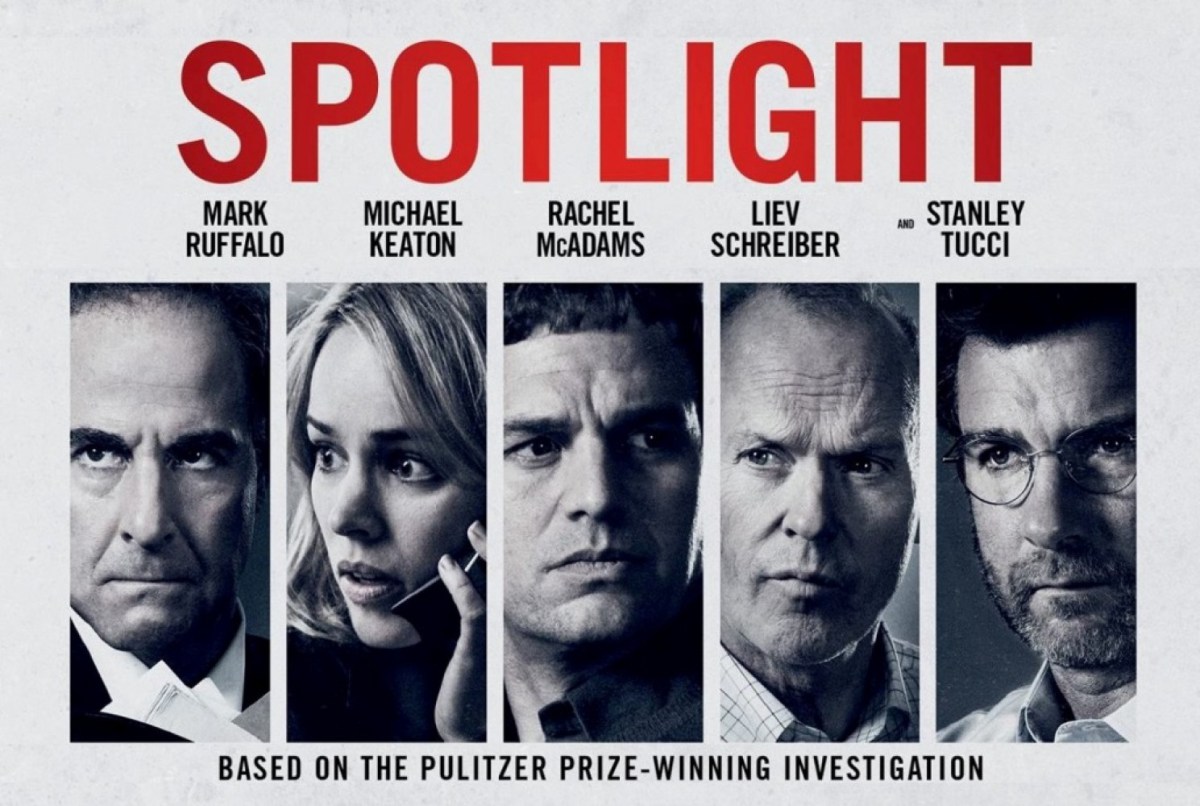 Boston in the summer of 2001. Martin Baron arrives as the new editor-in-chief of The Boston Globe. Investigative journalists at the newspaper's Spotlight team – Mike Rezendez, Sacha Pfeiffer, Matt Carroll and their editor Robbie Robinson – informs him of a story they are working on. It involves a local Catholic priest, John Geoghan, being accused of a long series of sexual abuse, but they are rumors of a far wider circle of priests also tainted by a history of child-molesting. Baron takes an interest in the story and wants the team to widen their investigation to also include how the church has handled the abusers.
Soon they suspect a systematic cover-up going all the way up to the archbishop of Boston, Cardinal Bernard Law. Abusive priests are relocated to other parishes or sent away on 'sick leave'. The number of suspected priests rise dramatically to 87 in Boston alone, and there are reports from psychiatrists and organizations of adults being treated for traumas from sexual abuse indicating that the problem is nationwide, perhaps global.
After the 9/11 attacks, the investigation is halted momentarily, but weeks later they have a breakthrough when some sealed documents that proves the church's systematic cover-up is made public. The Boston Globe publishes a series of articles about the case in the paper's Sunday edition. Coming to work that morning, the Spotlight reporters receive hundreds of calls from abuse victims.
"There is no passion!" was the film critic's disappointed response to Spotlight in The Guardian. My reply is: Exactly! Melodrama and heroes are discarded. Instead investigative journalism is portrayed as unglamorous and backbreaking, and the journalists are neither charismatic nor muscular or even on intellectual steroids. They are simply doing their mundane jobs for months, sometimes without the hope of breaking the case since their investigation is up against an institution of formidable social, political and economic power: The Catholic Church.
It is also devoid of dramatic punch, you might think. No death threats against the reporters. No sign of political or economic leaning on the top brass of The Boston Globe by their peers in the community. Only subtle signs of hierarchy and consensus. One of the first invitations that the new editor-in-chief Martin Baron gets is to the cardinal, who flinches his understated power to sell Baron the message that the town is best served by its big institutions working together in harmony. Baron replies dryly that the newspaper is best served by standing alone. Later, Baron and Spotlight editor Robbie Robertson are invited to a Catholic charity gala, where they are invited to join a fellowship of people who consider themselves to be do-gooders. When they both respond by holding on to their integrity as newspapermen they get the cold treatment.
The scenes are brilliant displays of how consent is manufactured on an everyday basis in the social elite. Personal charm and the formal appearance of a 'humanist' ethos are presented here as deceiving, even sinister. A design to mask the double standards that allows for all kind of abuses of power, not only sexual. When on display, there is a detectable glimpse of irony in the eyes of the film's bourgeoisie. They all know that the self-celebrating clichés are standard routines of bullshit but go through the motions anyway. Appearances are everything, and the reporters' biggest crime is insisting on letting the readers have a look behind the scenes.
Dragging the occasional priest in the mud would not make any difference, since the church can just dismiss him as a bad apple. It could even be counter-productive as the system of abuse remains, whitewashed by the expulsion of the one who sinned against the eleventh command: Thou shalt not be caught. By the Spotlight team's resolve to go all the way with their investigation and reveal the system as corrupt by design they are on par with Carl Bernstein and Bob Woodward. Even better, they completely lack the All the President's Men duo's diva manners. Instead, we learn to appreciate the characters – quirks and mannerisms and all – who really contributes to ordinary members of society.
Lawyer Mitchell Garabedian is such a person. He handles many abuse cases against Catholic priests. Before we see him he is referred to as "quite a character", implying that he is not likeable, perhaps even nuts. Indeed, that seems to be the case at the first meeting with reporter Mike Rezendes. He is demonstratively off-putting and dismissive, refusing to share anything with the reporter. Odd considering what the publicity could do for his work. Another character who comes out as a potential member of the goon squad is Phil Saviano, leader of Survivors Network of those Abused by Priests (SNAP), who seems to direct his fury and angst against just about anyone.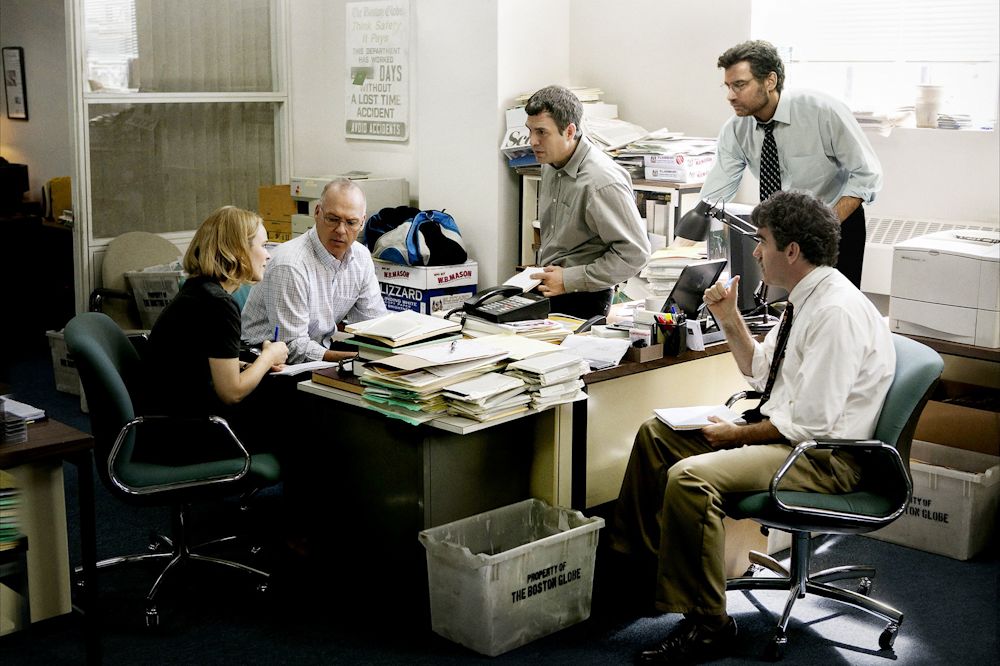 But as we learn more about the case, we come to see them and the wounded abuse victims they work with as genuinely decent and even admirable human beings. Their seemingly strange behaviors are revealed as understandable reactions to the conditions under which they live and work. In the case of Garabedian and Saviano, their initial reactions of aggression to the reporters have a history. Both eventually explain that they have been in contact with The Boston Globe before, only to be met by distrust and indifference to their cases.
Director-screenwriter Tom McCarthy, who has previously made great low-budget films such as The Station Agent (2003) and The Visitor (2007), has again proved himself to be an artist of courage. Shunning mainstream heroics and narrative strategies in this low-key ensemble piece, he even goes against standard individualist ethos by stressing the characters as products of their social environment: "It takes a village to raise a child, it takes a village to abuse them" as one line goes.
This is highlighted in a scene where Robbie Robinson rages about the church repressive powers. He talks about how everybody knew what was going on and did nothing, pointing his finger to a friend who defended "these scumbags." His friend replies: "Where were you?", and Robbie realize that he himself is not without blame. On the contrary, as he later learns, he even buried a story about an abusive priest some years ago then conveniently forgot all about it. The manufacturing of consent makes us all into collaborators of a perverted system.
© Michael Tapper, 2016. Web exclusive 2016-02-12.