USA 2002. Spirit – Stallion of the Cima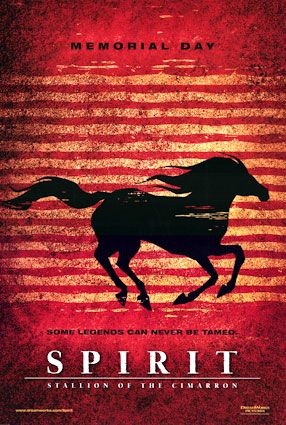 rron. Regi: Kelly Asbury, Lorna Cook. Manus: John Fusco. Musik: Hans Zimmer. Sånger: Bryan Adams. Röster: Matt Damon, James Cromwell, Daniel Studi. Svenska röster: Martin Stenmarck, Peter Andersson, Johan Svensson.
"Från producenterna bakom Shrek", står det på reklamaffischen. Men i denna nya animationsfilm från DreamWorks syns inga likheter till en av fjolårets absoluta höjdpunkter på bio. I stället känns Spirit som destillat av Disneys allra värsta sidor: Handlingen består i stort sett av en rad snyftframkallande avsked och återföreningar mellan djur med väna rådjursögon. Dessa växlas med utdragna transportsträckor till tonerna av banal skvalmusik, här av och med smörsångaren Bryan Adams och förvärrad av en sällsynt dålig svensk textöversättning. Den enda kryddningen är några lama actionklichéer inlånade från otaliga tidigare filmer.
Tekniskt sett innehåller den en del intressanta inslag som ska demonstrera hantverksskickligheten hos de animationsteamet, som arbetat med både datorstöd och traditionell, handtecknad animation. Men resultatet har blivit en alltför ljuv och nästan kväljande naturromantik från upphovsmän som aldrig vistats i den utan bara drömmer sig till den som ett svunnet ideal. Motsvarande blir indianerna alltigenom ädla och renhjärtade i en möjligen välvillig men absurt tillrättalagd glorifiering.
Den svenska bearbetningen lämnar, som antytts ovan, mycket i övrigt att önska. Förutom de usla sångtextöversättningarna finns här en klar brist på röstregi. Värst är kanske berättaren Martin Stenmarck, som med en muntlig framställning påminnande om högläsningsträning i lågstadiet definitivt sänker texten till ädelpekoralets nivå.
© Michael Tapper, 2002. Sydsvenska Dagbladet 2002-11-08.