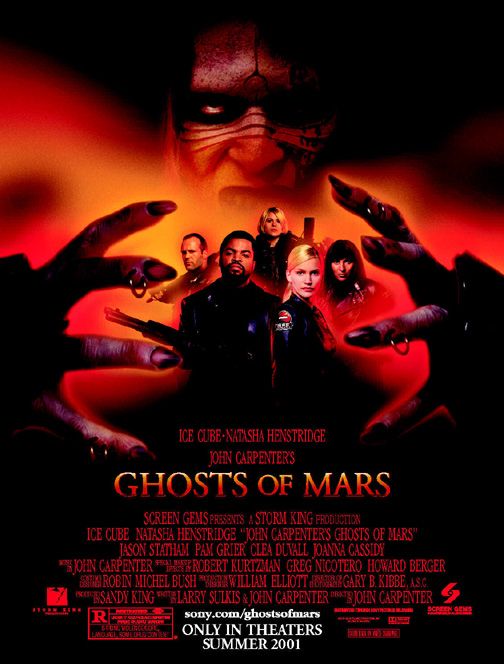 USA 2001. Regi: John Carpenter. Manus: Larry Sulkin, John Carpenter. Foto: Gary B. Kibbe. Musik: John Carpenter, Anthrax, Buckethead. I rollerna: Natasha Henstridge, O'Shea Jackson [alias Ice Cube], Pam Grier, Joanna Cassidy.
John Carpenters Ghosts of Mars är en lätt omarbetning genombrottsfilmen Attack mot Polisstation 13 (1976), som i sin tur stal det mesta från Howard Hawks västernfilm Rio Bravo (1959) och George Romeros zombieskräckis Night of the Living Dead (1968). Skillnaden är att vi här befinner oss i ett samhälle med matriarkalt styre på den koloniserade och ständigt sandstormshärjade planeten Mars år 2176. Och fienden är inte längre mänsklig utan marsianska demoner som väckts ur en mångmiljonårig vila och av någon anledning är blodtörstigt hämndlysten på kolonisatörerna.
Men även uppslaget till samhällsteckningen är intressant så förblir den marginell för filmen. Detsamma gäller de till en början lite originellt skisserade seriefigurerna till huvudpersoner. Upptakten är lovande: Vi följer ett tåg över den röda öknens ödelandskap. Några poliser är på väg för att hämta den mytomspunne brottslingen Desolation Jones (Ice Cube) från ett fängelse i ett gruvsamhälle.
I ett stämningsmättat bildberättande till sin sedvanligt enkelt avskalade men effektfulla musik demonstrerar Carpenter sin naturbegåvning för mediet. Här låter han oss ana att han en gång i tiden var en av USA:s mest lovande unga regissörer. Sedan tar orken slut. Framme i det hemsökta gruvsamhället växlar Ghosts of Mars in på rutinmässiga spår. Hjältarnas kamp mot en alltigenom ondskefull motståndare blir bara en blek skugga av bättre föregångare, till exempel regissörens egna filmer i den tidiga karriären. Inget är så sorgligt som en uppvisning i att kunna men inte vilja.
© Michael Tapper, 2002. Sydsvenska Dagbladet 2002-05-03.