For a complete list of books, see BÖCKER.
Ingmar Bergman's Face to Face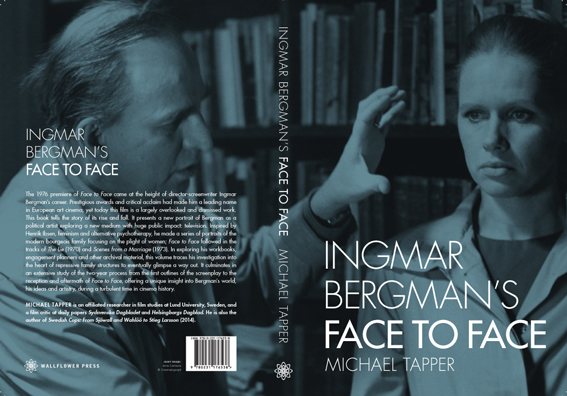 Praise for Ingmar Bergman's Face to Face:
"[…] Tapper's deep dive off the second tier makes for a fruitful exploration of Bergman's early 1970s period, during which the filmmaker found new possibilities and wider audiences with television, and with the abyss-plumbing, psychologically naked Face to Face in particular. By zeroing in on one of the director's neglected films, Tapper finds new angles on a figure too often embalmed as a chilly, Nordic art-house deity […] Tapper thoroughly maps the genesis and action of Face to Face with excerpts from Bergman's notebook and planner, and judicious splashes of color (producer Dino De Laurentiis is "that fucking Italian"). Weighing reasons for Face to Face's lukewarm reception, he provides mundane ones (Bergman's tax evasion scandal, primal therapy's loss of favor) before giving his own clear-eyed account of the film's demerits, including a failure to clinch audience engagement with Jenny's plight. Tapper's lack of an agenda to crown an undersung masterpiece is a refreshing alternative to the reverent canonization that often accompanies discourse on the artist and obscures the true nature of his legion achievements." – Justin Stewart, Film Comment, January/February 2018.
"Generally, this book is concerned with providing context, rather than offering revisionist arguments, or pushing the case for a critical rehabilitation of Face to Face. Detailing the ways in which the late nineteent-century plays of Ibsen and Strindberg inspired Bergman's mid-career work, Tapper also emphasizes the extent to which the filmmaker was steeped in cultural concerns, and was heavily influenced by both the sexual revolution and the 'Anti-Psychiatry' movement of the 1960s. /…/ Published on the eve of Bergman's centenary, this book situates a largely overlooked Bergman film back in the time and place from which it emerged, inviting us to understand it in its own terms." – Anna Coatman, Times Literary Supplement, 18 May 2018.
See also Antti Alanen's  review of my book ON HIS BLOG.
Published October 3, 2017 (pb ed. October 31), by WALLFLOWER PRESS, an imprint of COLUMBIA UNIVERSITY PRESS.
ISBN-10 (hc) 023117652X
ISBN-13 (hc) 978-0231176521
ISBN-10 (pb) 0231176538
ISBN-13 (pb) 978-0231176538
Hardcover, paperback, e-book (Kindle) 216 pages
Product Dimensions (hc) 2.5 x 16.5 x 24.1 cm
Product Dimensions (pb) 1.9 x 15.9 x 23.5 cm
BUY:
AMAZON UK (hardcover)
AMAZON UK (paperback)
AMAZON US (hardcover)
AMAZON US (paperback)
E-BOOK (Amazon Kindle edition)
SWEDISH COPS: FROM SJÖWALL & WAHLÖÖ TO STIEG LARSSON
Michael Tapper considers Swedish culture and ideas from the period 1965 to 2012 as expressed in detective fiction and film in the tradition of Maj Sjöwall and Per Wahlöö. Believing the Swedish police narrative tradition to be part and parcel of the European history of ideas and culture, Tapper argues tha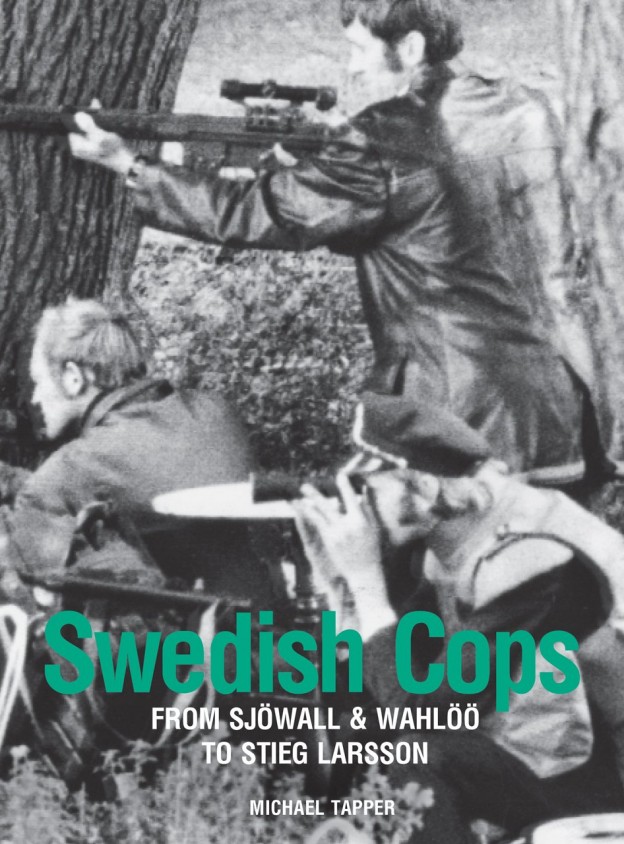 t, from being feared and despised, the police emerged as heroes and part of the modern social project of the welfare state after World War II.
Establishing themselves artistically and commercially in the forefront of the genre, Sjöwall and Wahlöö constructed a model for using the police novel as an instrument for ideological criticism of the social democratic government and its welfare state project. With varying political affiliations, their model has been adapted by authors such as Leif G. W. Persson, Jan Guillou, Henning Mankell, Håkan Nesser, Anders Roslund and Börge Hellström, and Stieg Larsson, and in film series such as Beck and Wallander. The first book of its kind about Swedish crime fiction, Swedish Cops: From Sjöwall and Wahlöö to Stieg Larsson is just as thrilling as the novels and films it analyses.
ISBN 9781783201884
Paperback 335 pages
230 x 170 mm
Published June 2014
Imprint: INTELLECT .
Published in USA by UNIVERSITY OF CHICAGO PRESS
Buy:
 INTELLECT LTD.
UNIVERSITY OF CHICAGO PRESS
AMAZON (UK)
 AMAZON (USA)