Looking for…
1. Fritz…
With the 2004 release of Woman in the Moon (Die Frau im Mond, 1929) all of Fritz Lang's important silent films have now been transferred to DVD with varied technical results. The most satisfying are those based on restorations made by the Friedrich Wilhelm Murnau Stiftung in Germany: the two-part Die Nibelungen (1924), Metropolis (1927), Spies (Spione, 1928) and Woman in the Moon – all released on Kino International on (region 1; Metropolis also in region 2 by British Eureka Video).
There will, of course, always be reservations about Metropolis since it was recut in so many versions that even Lang himself lost track of what the original version, premiered in Berlin on the 10th of January 1927, actually looked like. The result now presented on DVD is based on some qualified guesses made by scholars and restoration experts but, at least, far superior to the awful copies of various length that has been in circulation since the 1930s.
My own favorite is the two-disc release of Die Nibelungen, with a new recording of the original orchestral score. I only wish they had made a better job of removing the scratches and dust that still are glaringly visible in the transfer. Lang's take on the ancient Germanic legend is pure kitsch, no doubt about it, and it is easy to see why it captivated the Nazis, on the rise at the time in Germany.
However, it is significant that they, shortly after taking power in 1933, re-released only the first part, Siegfried, with a new Wagner compilation score. In that form it could be presented as unproblematic nationalist propaganda that linked the ur-myth (although reshaped by the filmmakers) to contemporary legends about back-stabbing traitors and "foreign elements" that Hitler & Co. pointed to as the orchestrators behind Germany's humiliating defeat in World War I.
Kriemhild's Revenge, the second part, in which Siegfried's "Aryan" bride becomes a psychotic vigilante, remained in the archive. Perhaps the mad, graphic blood-shed at the end would remind people about the true consequences of war or, as Jan-Christopher Horak suggests in an accompanying essay, because it was an uncomfortably close representation of Hitler's apocalyptic death wish for Germany.
Previous releases of The Spiders, Part 1: The Golden Lake (Die Spinnen, 1 teil: Der Goldene See, 1919), Destiny (Der müde Tod, 1921), and the two-disc Dr. Mabuse the Gambler (Dr Mabuse der Spieler, 1922) – all by Image Entertainment – are also far from perfect, though better most 35 mm copies in circulation before. Save for Gaylord Carter's insensitive and boring organ score to The Spiders and Robert Israel's misguided, somber orchestral score to Dr. Mabuse the Gambler (which, given the modernist underworld settings, should have been accompanied by roaring jazz music), both the Image and the Kino releases have ambitious orchestral recordings. And why don't all of these landmarks in cinema have a commentary track by one or several scholars (Patrick McGilligan, Tom Gunning et. al.) when remastered and repackaged for DVD? Only two of the titles mentioned above have them, and the comments make all the difference.
David Kalat makes up for a so-so transfer of Dr. Mabuse the Gambler with a commentary track that might not have any original views or reveal anything significant about the film. Still, he sums up the known facts with a genuine enthusiasm that holds the interest all through the almost four hours of runtime. In the same vein, Enno Patalas guides us through Metropolis by telling us what is known in film literature about this legendary, grandiose financial fiasco that almost drove to UFA to bankruptcy. Remaining on the wish list from Lang's silent period are a few minor titles, most notably Four Around a Woman/Struggling Hearts (Vier um die Frau/Kämpfende Härzen, 1920) – an early collaboration between Lang and Thea von Harbou. And maybe The Spiders will be completed with its second part (then, hopefully, without a score not by Gaylord Carter).
2. …and Ingmar
Living in Sweden and trying to collect Bergman films comes with an absurd twist. The few Swedish releases are all technically inferior and lack extras of interest. The notion of getting Bergman himself or some Swedish film scholar into a recording studio to expand the experience with a good commentary track seems not to have occurred to the DVD producers. And so I have to look south in Europe or across the Atlantic to try and get what I am looking for.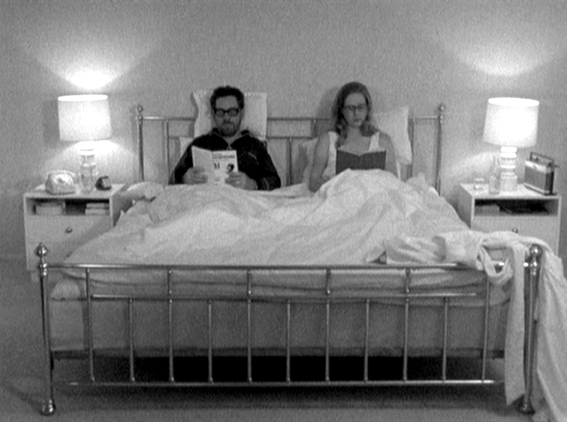 The most ambitious, technically superior (and expensive) releases are, not surprisingly, the ones from The Criterion Collection (region 1). A few months ago they released the original six hour TV-version of Scenes from a Marriage (Scener ur ett äktenskap, 1973) that also included the three-hour theatrical version. However, film journalist Peter Cowie seems to hold a monopoly on commentary tracks to Criterion's Bergman titles, which makes for a rather unexciting listening experience.
Cowie routinely goes through the most obvious observations, facts, and canonized anecdotes, but we are nowhere near the analytical challenge and originality of, say, Laura Mulvey's take on Criterion's Peeping Tom or Camille Paglia's adventurous journey through Basic Instinct (Artisan DVD, region 1). (At MGM's DVD department Marc Gervais seems to hold a corresponding position – see MGM's releases of Persona and The Passion of Anna – with similar results.)
Scenes from a Marriage was the work by Bergman that had, by far, the most far-reaching impact. As Bergman notes himself in a TV interview from the 1986 rerun of the series, the original release in 1973 had an explosive effect on the divorce statistics in Sweden, Denmark, Germany and just about wherever it was shown. This legacy from the 1960s rise for feminism and sexual liberation had finally reached the parent generation and was combined with a tidal wave of various therapeutic trends to an almost collective process of questioning the bourgeois marriage and family as an institution.
Until then Bergman was mostly an art-house phenomenon, reaching mostly a smaller circle of intellectuals. His biggest box-office hit had been controversial, sexually explicit The Silence, which the director himself said in an interview got the mass-audience's attention "for all the wrong reasons."
Despite the realist settings in the couple's house, his and her offices, and some streets around Bergman's own apartment at Karlaplan in Stockholm, the spatio-temporal framework around the couple's disintegration soon becomes an abstract background. This is a continuation of Persona's psychological landscape, in which Johan (Erland Josephson) and Marianne (Liv Ullman) can go beyond their social façades (beyond "good" and "evil") – parodied in the opening magazine interview and by their bickering dinner guests in the first episode – to, eventually, get access to their primal feelings.
Sadly, author Philip Lopate's essay printed in the accompanying booklet trivializes the series further with comments such as his notion that men and women are "natural antagonists" (a very social construction under patriarchy and closely connected to other hierarchies such as class). He is also baffled at Johan's hatred of Marianne's body since she is "a dish"  (when Johan is, in fact, talking about her hatred of his body, flushing out his semen after their intercourse – also a legacy of sexual repression linked to patriarchy). Etc. Etc.
Rather, the original TV-series is a brilliant analysis not only of the bourgeois marriage but also of audience psychology, and it is no less powerful today than in 1973. The dramatic structure constantly provokes expectations about "ordinary behavior" according to genre structure but also gender stereotypes (women as victims, men as aggressors etc.) only to twist them around completely in the next episode or even scene. When I screened it for students over a day, with breaks for discussions, sympathies and expectations shifted radically in between every episode. And the ending – truly beyond "good" and "evil" – seemed to hold a genuine surprise.
For those in Europe (region 2) who are satisfied with just good transfers of Bergman's films without any extras (well, some short notes usually by Philip Strick), Tartan Video has a vast collection of titles. Recently, they released some very early films, like Crisis (Kris, 1945), Three Strange Loves (Törst, 1949) and Summer Interlude (Sommarlek, 1951) plus the little-seen TV drama The Rite (Riten, 1969). A.
A few Bergman films are still unavailable, for instance It Rains on Our Love (Det regnar på vår kärlek, 1946), Music in Darkness (Musik i mörker, 1947), and This Can't Happen Here (Sånt händer inte här, 1950) plus, of course, the ones he wrote for other directors and also most of his TV dramas.
© Michael Tapper, 2005. Film International, no. 14, 2005:2, pp. 56—57.