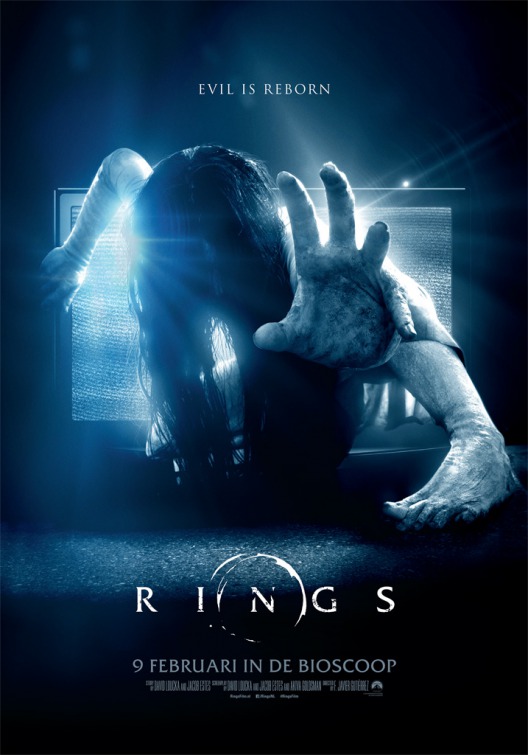 USA 2017. Regi: F. Javier Gutiérrez.  Skådespelare: Matilda Lutz, Alex Roe, Vincent D'Onofrio, Johnnie Galecki. Åldersgräns: 15 år. Längd: 1.42.
Gore Verbinskis Hollywoodproduktion THE RING (2002) banaliserade Hideo Nakatas japanska original från 1998. Borta är den sinnrika kombinationen av folksaga och modern myt i ett samhälle märkt av ensamhet och alienation. Nakatas eget försök att i uppföljaren THE RING TWO (2005) anknyta till David Cronenbergs Videodrome (1982) var inspirerad men kom för sent. Vid det laget hade internet tagit över TV-mediets roll som mänsklighetens mentala slagfält.
Årets reboot, Rings, har inget annat existensvärde än att försöka casha in på varumärket. Tempot är lågt i hopp om att kunna fejka rysaratmosfär, men intrycket är snarare en idéfattig lunk mot den stora sömnen. I öppningsscenen berättas en knasversion av den antika grekiska Orfeus-sagan som antyder att filmmakarna inte ens orkat slå upp "Orfeus" på Wikipedia. Mycket riktigt finns det ingen som helst likhet mellan mytens heta kärlekspar och filmens hormondränerade duo Julia (Matilda Lutz) och Holt (Alex Roe).
Lika platt faller försöket att hotta upp storyn med lite Josef Fritzl-kittlingar när man tecknar bakgrunden till dödsspökerierna. Inte ens den enda nya och lite roliga detaljen med en Easter Egg – en dold länk till en film i skräckvideofilmen – förmår man göra något intressant av.  En tom och likgiltig förolämpning mot både publiken och genren.
© Michael Tapper, 2017. Sydsvenska Dagbladet och Helsingborgs Dagblad 2017-02-03.