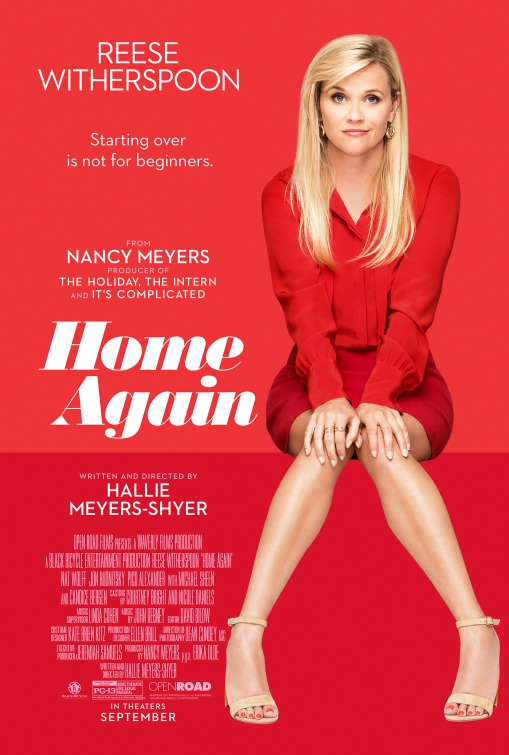 USA 2017. Regi: Hallie Meyers-Shyer. Skådespelare: Reese Witherspoon, Nat Wolff, Jon Rudnitsky, Pico Alexander. Åldersgräns: 7 år. Längd: 1.37.
För fans av romantiska komedier är Nancy Meyers (The Holiday) och Charles Shyer (Brudens far) välbekanta varumärken för söndagsskolekammade solskenshistorier saltade med en nypa komplikationer. Ändå är deras filmer inget mot den akuta sockerförgiftning som dottern Hallie Meyers-Shyer serverar i regidebuten Home Again, producerad av mamma.
Den handlar om Alice (Reese Witherspoon), vars skilsmässa, 40-årskris och singelmammaliv med två brukshundsklubbsdresserade döttrar i ett lyxhus i Hollywood orsakar en livssmärta lika djup som sprickan i en lösnagel. Räddarna i såpoperanöden blir tre unga indie-filmtalanger som flyttar in i gäststugan på väg från Sundancefestivalen till drömfabrikens gräddfil.
Regissören Harry (Pico Alexander) servar Alices underliv i en toyboy-romans så tam att påven lika gärna kunde stått för regin. Under tiden tar manusförfattaren George (Jon Rudnitsky) och skådespelaren Teddy (Nat Wolff) marktjänsten i hemmet.
Här finns embryot till en parodi på SNÖVIT OCH DE SJU DVÄRGARNA (Snow White and the Seven Dwarfs, 1937), där de senare får hemmafrurollen. Komiska inslag det däremot kliniskt rent på.
Som utfyllnad klipper man upprepade gånger in scener där smetig hissmusik dränker ljudet av folk som pratar och skrattar. Vad som är så skoj förblir ett mysterium för publiken. Kanske är skämten på vår bekostnad.
© Michael Tapper. Sydsvenska Dagbladet och Helsingborgs Dagblad 2017-10-13.