Storbri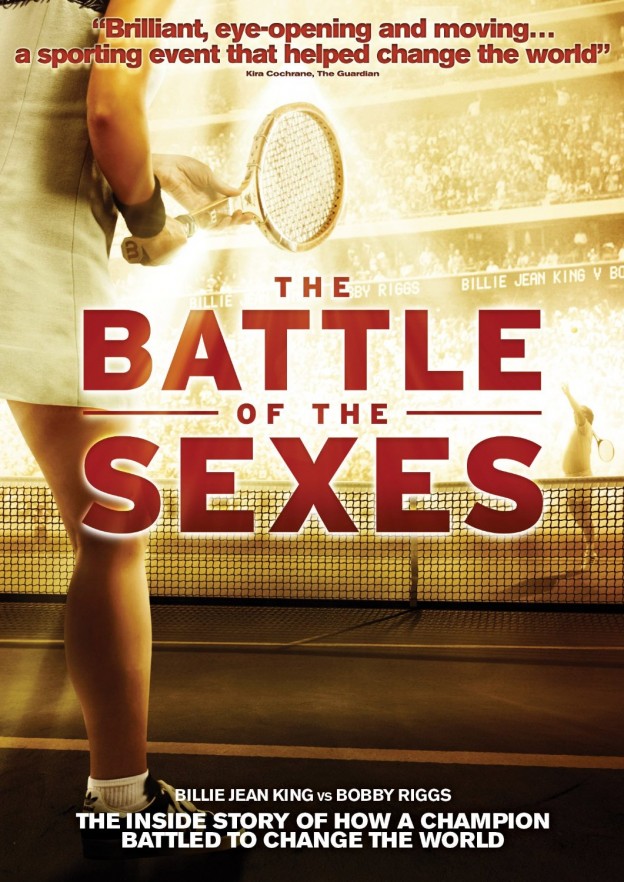 tannien/USA 2013. Regi: James Erskine, Zara Hayes. Medverkande: Billie Jean King, Bobby Riggs. Åldersgräns: 15 år. Längd: 1.23.
Battle of the Sexes hämtar material ur tv-arkiven för att ta åskådaren till en tid, en politisk kamp och en symbolisk nyckelhändelse. Det handlar om en tennismatch 1973 som fick 90 miljoner tv-tittare över hela världen. En match om betydligt mer än ära, berömmelse och en handfull dollar.
På ena sidan nätet stod Bobby Riggs, 55-årig ex-tennisstjärna som efter flera år i glömska klev fram i rampljuset som stöddig belackare av kvinnliga idrottare, särskilt tennisspelare. På andra sidan 29-åriga Billie Jean King, då på toppen av sin karriär efter en rad segrar i de största tennismästerskapen. Bakgrunden till matchen var en konflikt om ojämlika prispengar som hade fått en rad framstående kvinnliga tennisspelare att starta ett eget förbund och en egen turnering.
Mediepajasen Riggs såg sin chans till pengar och berömmelse och hetsade den motvillige King till en uppgörelse. Enligt honom skulle den visa mannens överlägsenhet. Inte bara i tennis utan på livets alla områden.
Efter att han psykat sönder och sedan lätt vunnit mot en av Kings främsta medtävlare, Margaret Court, i det som kallades "Mother's Day Massacre", antog King utmaningen. Och snart visade det sig att feministen King mer än väl kunde matcha mansgrisen Riggs i både psykningar och mediespektakel.
Tv-regissörerna James Erskine och Zara Hayes har gjort en både tankeväckande och rolig dokumentär, där guldkorn ur arkiven blandas med intervjuer gjorda under senare år. Billie Jean King får mest mikrofontid eftersom Riggs dog i prostatacancer 1995. Men filmmakarna har bemödat sig om att också intervjua en rad av Riggs kollegor, släktingar och vänner, liksom en rad av Kings mest kända konkurrenter, inklusive Margaret Court.
En eftertext talar lite dystert om att prissummorna i tennis blivit hyfsat jämställda, men att det inte gäller andra idrotter.
© Michael Tapper, 2014. Sydsvenska Dagbladet 2014-03-07.